TODAY IS THE FEAST OF OUR LADY OF LOURDES!
And the French Catholic in me is flipping his lid!
(In case you were wondering, I'm half Irish Catholic and half French Catholic, so I feel very guilty about everything, but at least I'm allowed to cry about it.)
So since today is so special to me, there's only one thing for a boy to do
LET'S GO SHOPPING!
Ooooh, that's quite nice I'll take one of those...
I'll get one of each of these...
I'll splurge and get the 2 gallon bottle of water from the grotto...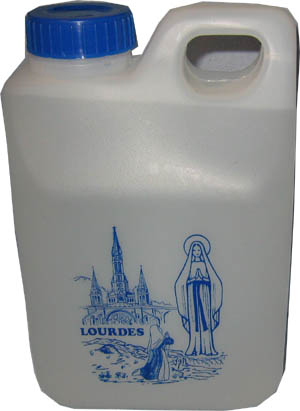 One can never have too much plastic statuary, if I do say so myself and....
Oh...that would be...uhm...a little statue of Our Lady in a bottle of Lourdes water.
I'll get it, but only because it's a special day.